WHAT
Dr. Frank Robinson and his staff use the PlusOptix screening device to find children as young as 3 years old, whose eyes may have some type of defect, which, if left untreated, may lead to a lifetime of vision problems or blindness. Vision Screenings can detect near sightedness, far sightedness, astigmatism, and other amblyopia (dull vision) factors.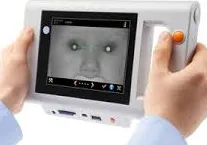 WHY
The muscles that control the eye, the optic nerve, and the area of the brain that gives us vision are completely developed by the age of six. Vision deficiencies that may have occurred during development will be very difficult or impossible to treat after this time. Many of these problems, if detected before full development, can possibly be corrected easier and with less cost.
HOW
The PlusOptix takes digital photos and measurements of the child's eye, from a comfortable distance. It is as easy as having their picture taken.
DID YOU KNOW?
Between 70-80% of what a child learns is visually acquired!
More than 60% of the children in the United States have not been examined by an optometrist or ophthalmologist by the age of 6.
Most people think that when they take their children to the pediatrician that any of the problems that the child has will be discovered and treated. Most pediatricians have only had a small amount of training related to the eyes, so vision problems are more likely detected and addressed by an optometrist or ophthalmologist.
A child does not know that he or she has a vision problem. You know when you need to go to the eye doctor because you have had previous experience at seeing well. You can tell the eye doctor when what he is doing helps your vision. A young child doesn't know how well they should be able to see. Most young children under the age of 5 are not capable of communicating effectively to find possible problems.
https://www.plusoptix.com/lang-en/vision-screener.html
We are now utilizing the MiraFlex & Kids Bright Eyes Brand Frame line. A flexible & safe option for ALL ages from newborn to adult.
*Metal Free
*No Screws
*No Pads
*No Hinges
*No Adjustments or Replacement Parts Required
*Hypoallergenic, Soft, Light Material Adapts to Child's Facial Structure
*Anatomical Bridge Design
*Holds Any Prescription To Correct Preemie & Infant Needs
Office 260-203-5905